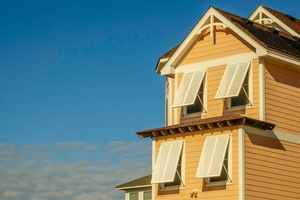 From June to November, the entirety of Florida is at risk for severe weather. 14 Atlantic hurricanes were spawned during the 2020 hurricane season, and seven of those were deemed major (category three or higher) with over $51 billion in damages. Destructive weather systems are inevitable at this time of year, but there are still ways to protect your home! Hurricane shutters Leesburg FL are a popular choice for storm protection – just read on to learn some facts about these useful additions!
Maintenance for Hurricane Shutters The Villages FL
Hurricane shutters will only work as effectively as how well they are maintained. Considering that these protective shutters are your first line of defense against severe wind, it is important to make sure they are in working condition before a hurricane hits. We recommend having your hurricane shutters inspected annually, especially before or early in the Atlantic hurricane season. Besides that, make sure to open and close your shutters at least once every six months and wash them down with warm water and a mild soap.
There are Plenty of Options for Hurricane Shutters
Homeowners seeking protection from storm season may choose from a wide array of options to find the most perfect fit for their home. The most durable and permanent options will cost more than a temporary solution, but your home will be grateful for the unbeatable protection as more and more hurricanes spawn year after year. White Aluminum offers accordion shutters, rolling shutters, and Bahama shutters so that every home can find its perfect match.
Plywood is NOT an Acceptable Substitute
Both plywood boards and hurricane shutters cover windows but that is where their similarities end. Plywood is not durable and will certainly break in the event of a severe storm. Hurricane shutters are designed to withstand hurricane-force winds and keep flying debris out of your home. Yes, plywood is an acceptable last-minute solution, but the long-term well-being of your home and family deserves hurricane shutters.
Leave it to the Pros
Attempting to install hurricane shutters can lead to unforeseen problems. Improper installation may render them ineffective when a hurricane hits, which is sure to add additional expenses for repairs. Professional shutters and window installers will know how to install the shutters correctly to guarantee protection.
Installing hurricane shutters is essential for every Florida home. White Aluminum is your trusted The Villages FL source for shutter installation, as well as other services like replacement windows, awnings, and more. When it comes to the safety of your home, let the professionals at White Aluminum take care of it – we guarantee your safety! Review our extensive array of products here and give us a call to request a brochure!