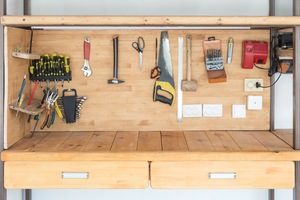 At White Aluminum, we proudly design sheds in Leesburg, The Villages and beyond! Our customers use these handy backyard storage solutions in a wide variety of ways - and today, we're sharing some of the best uses we can think of. Just read on for some DIY inspiration from your go-to DIY pros.
Traditional tool zone
One of the more traditional uses for a shed is still one of our favorites. Your shed can transform your messy collection of tools and DIY gear, to a neat, photo-ready storage spot for your workbench and equipment. Complete your passion projects and everyday fixes with ease in a comfortable shed!
A fun space for kids and pets
You might also think of your shed as a ready-made playhouse for your child or furry friend. When fun days in the backyard turn to rainy afternoons (as they so often do here in Florida), the activities can continue with the help of a shed no matter the weather!
Your perfect hobby haven
It's always fun to discover a new hobby - but many of them come with lots of gear, and you'll naturally need a good place to store it all! Not only can your shed serve as a great place to house your hobby gear (from tennis rackets and gardening supplies to your snorkel fins, kayaks and virtually anything else you can think of); it can also be the place where your hobby happens! A beautiful shed can serve as a place to read or knit - or crack open the door and paint in the fresh air, rain or no rain! The options truly are never-ending.
Splashing storage
A poolside shed can take on a resort cabana vibe, becoming the perfect place to store pool toys, floats, spare towels and snacks for splashing fun.
A classic tree house
As kids, the tree house was a center of fun and exploration - a place to escape from the hustle and bustle of home and catch up on a good book, chow down on snacks, hang out with friends and make believe to our heart's content. We think a solid, stylish White Aluminum shed can serve a similar purpose, giving you and your family a safe, comfy place to relax all year long. Stock it with board games, puzzles and whatever else you can think of!
Ready to install a shed in your own backyard? DIY projects, family fun and new hobbies await! Call White Aluminum The Villages today to get started.