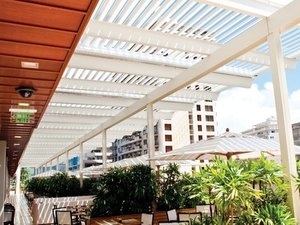 Rain or shine, Equinox Louvered Roof systems create an outdoor living space that allows you to take control of when and how you enjoy the outdoors. These systems are a versatile, solar-powered, and motorized adjustable patio cover that combines style and function to enhance your outdoor living space. Continue reading to learn how White Aluminum can improve the outdoor patio of your home with these advanced roof systems.
Ventilation
With the function to be both opened and closed, louvered roof systems can maximize the airflow throughout the covered area. Have you been considering the logistics of adding an outdoor kitchen to make your patio the perfect hosting spot for spring and summer? This feature is a huge bonus as it converts your covered area to an open space where any smoke or steam from the kitchen can clear out easily. Conversely, by closing your louvres, your outdoor space is guaranteed full protection from wind and the material is built to withstand even the toughest gusts.
Insulation
Constructed with extruded aluminum, the louvres are a great reflector of heat. In the blistering summer heat, your louvered roof system can keep the heat out and reduce heat radiation to the outdoor space below it, which will maintain a more comfortable temperature. Furthermore, the aluminum louvres will trap any heat within that may be coming from below. This handy feature can be an incredible boost to your outdoor quality of life when the mercury drops during the colder winter months, ensuring a cozy warmth even when the air is frigid.
Light Diffusion
Though they are similar in many ways to a pergola, The Villages FL residents will love louvred roof systems because they can be adjusted at your own discretion to allow in a comfortable level of light to fit your preferences. With the touch of a button, louvers can be positioned anywhere within their 160-degree range of motion to allow as much as 90% of available sunlight when the system is fully opened. If the sun is bearing down too hard, you still have the option to close the roof and produce a full shade to remain comfortable on even the hottest days.
Ambience
While being a similarly beautiful addition to any outdoor space, pergolas do not have the same ambient options that a louvre system does. By utilizing these roofing systems for your outdoor space, you will always have a range of options for light, temperature, and ventilation of your patio. Whether you prefer hosting on a breezy spring day, or a hot and sunny summer day, you will be able to pick the perfect setting for your outdoor space.
Functionality
Louvered roof systems deliver a level of control over your outdoor area which guarantees greater functionality for the space below your roof. Weather and other outdoor factors are wildly unpredictable, especially as we work through the calendar of a new year, but purchasing an Equinox Louvered Roof system for your patio provides you with control over things such as light, temperature, and ventilation. Open or close your louvres to prevent the outdoor circumstances from hindering your next get-together.
Call us to see how we can help you design your very own louvered roof system for your home just in time for the spring season! Since they come in clay, white, and sandstone, there is a perfect fit for our systems with your unique outdoor landscape. At White Aluminum & Windows, we bring six decades of experience and integrity serving Florida homeowners and will provide you with the absolute best service. Whether you are in need of an upgraded outdoor roofing system or screen enclosures, pool cages, or awnings, we are your go-to local professionals.