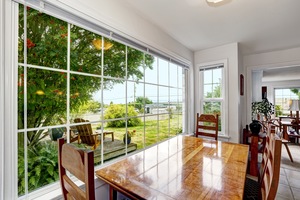 It's been an active hurricane season, and forecasters predict more storms could be possible. In fact, the Atlantic Hurricane Season runs through the end of November each year. While September tends to be the busiest month for severe weather, meteorologists say not until the end of the season can anyone let their guard down. Even then, every day vigilance is necessary to ensure the continued security of your property.
While you take steps to ensure your loved ones will be safe in the face of inclement weather, it's equally important to focus on how your property might withstand any number of weather scenarios. That means you should be prepared for high winds, pounding rain, tornadoes, hurricanes, flooding, and more.
The good news is that there are home features that could become lifesavers in an emergency situation. One of those is high-quality impact windows. Read on to discover some of the major benefits of adding this essential product to your property this year.
Protection from the Elements
As mentioned, while most days in The Villages are bright and sunny, there are times when Mother Nature musters downright nasty conditions. While you take shelter inside your residence, it's good to know that you'll be safe from any number of external threats.
The somber reality is that some existing windows just can't withstand impact. So, in the case of a hurricane or even harsh storm, your windows could break — putting you and your family members at direct risk.
By contrast, impact windows are specifically-designed to withstand even intense pressure. Whether it's flying debris, a wayward baseball, attempted burglary, or something else, your windows will remain intact.
Best of all, while these windows are attractive and inviting on their own, they can easily be dressed up with plants, décor, and even awnings in The Villages, Florida.
Safety and Security
As mentioned, impact windows are resistant to heavy blows. While we'd all like to think that crime can't happen in our locale, the reality is that criminals without scruples have no reservations about striking any residence they choose.
The good news, according to law enforcement experts, is that crooks also tend to be lazy, and often get nervous easily. That means if they can't easily smash your windows, these ne'er-do-wells will quickly move on to the next home. In that regard, your impact windows could prevent you from becoming a victim.
In addition, treated windows block the sun's harmful UV rays. They also keep out noise that can be distracting and downright annoying. Best of all, the energy-efficiency that new windows provide can save you big money on your utility bills. You might even be eligible for tax and/or insurance discounts.
Simple Installation
While impact windows are hardy and durable, installation is a simple and straight-forward process. You won't be waiting around for months on end for a project to be completed. Instead, you could be enjoying your new windows in no time, and reaping all of the benefits that this innovative property enhancement solution provides.
Just as gutters in Leesburg, Florida safeguard your home from tree debris and other exterior contaminants, impact windows can help you achieve whole-house protection. That way, you can focus on being relaxed and comfortable inside your residence.
Improved Property Value
Ask any REALTOR®, and they'll tell you that curb appeal still matters. Even if you don't plan to sell anytime soon, neighbors, guests, and passersby will be impressed your pride of ownership and attention to detail.
Similar to pergolas in The Villages, Florida, impact windows add both function and fashionable flair to your residence. Plus, they can be coupled with any number of other useful home improvement products. The first step is to team with a trusted and reputable firm with a proven track record of success.
For more than 60 years, we've delighted countless homeowners just like you with the outstanding products we provide — designed to improve your home and surrounding property. In addition to windows, that also includes Florida sunrooms, roof overs, retractable screen systems, pool enclosures, do-it-yourself (DIY) kits, awnings and shutters, carports and patio covers, and much more. Browse our website to see all of the creative ideas awaiting you. Then, contact us today to get started on your next home improvement project.