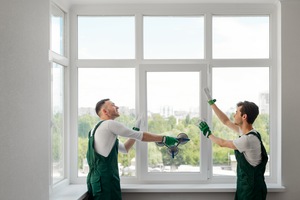 Windows that fail to provide the proper insulation are a money sieve. Sure, they might successfully keep everything that is outside from getting into your home, but a drafty window can lead to fluctuations in temperature, which places more stress on your air conditioning and then that power bill burns a bigger hole through your pocket. This is especially noticeable at the peak of winter and in the spring and summer months, as we experience both ends of the thermometer. Interested in saving money and boosting your quality of life by investing in replacement windows for your home in The Villages, FL? Just read on!
Save Energy, Greater Comfort
The Environmental Protection Agency EnergyStar program estimates that the average U.S. home can save anywhere between $126 to $465 a year when replacing windows. Plus, high-quality and well-maintained windows are going to last for at least 20 years, which means that those savings will add up. The National Association of Realtors estimates that homeowners who replace their windows get back 80% of the investment, which isn't to mention the fact that improved windows will mean a higher selling point if your house ever hits the market.
Prevent Air Escape
Drafty windows let in changes in temperature and let out your money at the same time. Air escape can increase your energy bills by 10% to 25%, whereas high quality replacement windows are built to seal off air flow and prevent escape. With less air getting in and out, your heating and cooling will not have to work as hard to maintain your temperature of choice, resulting in improved energy efficiency, reduced utility bills, and maximized comfort.
Reduce Dust and Allergens
Many modern windows include between-the-glass blinds and shades that come tucked between the panes of glass. These blinds stay protected from dust, which helps to harbor fewer indoor allergens in your home as well as decrease your time cleaning window coverings. This is especially helpful in spring, as pollen count soars and other allergens riddle the air.
Noise Reduction
Studies have shown that noise pollution is harmful to our health because it can interfere with our ability to get restful sleep or otherwise compromise the peace and quiet that is meant to be enjoyed in our own homes. Replacement windows can help buffer the outside sounds we live with every day, such as lawn mowers, loud animals, traffic, and more to ensure a more restful environment for homeowners.
New Security Features
Older windows may be harder to open or be painted shut, which is dangerous in addition to being an annoyance in the event of emergencies. Replacement windows not only offer fresh air at your own discretion, but they also come with improved functionality that can benefit the safety of your family as well. Newer windows feature enhanced security options, such as up-to-date locks and security sensors, which are sure to provide homeowners with peace of mind.
Are you asking yourself if it is the right time to purchase replacement windows? With the litany of benefits that come with upgrading your windows, we say that now is the perfect time! Replacement windows from White Aluminum & Windows in The Villages are the perfect solution for any remodeling or replacement needs. You will enjoy the industry's best energy-saving advantages while also benefiting from comfortable living and protection from debris. Contact us today to get started on getting your replacement windows!