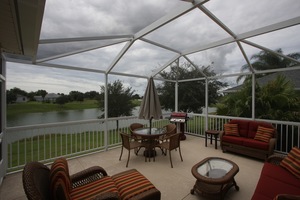 With so many room addition solutions available, from sun rooms to screen rooms Leesburg FL homeowners may be wondering: Is this the right solution for my home? When it comes to screen rooms, we can't recommend their effortless blend of indoor-outdoor living enough. Just read on to discover if you might benefit from a screen room addition to your home.
You might benefit from a screen room if...
You entertain outdoors (or would like to start!)
If you're wondering if a screen room is right for you, a good sign is that you already are used to entertaining outdoors (or have been dreaming about it, but haven't had quite the right space). Think of your potential screen room as outdoor entertaining but better, with cover and an insect-free space that makes you and your guests more comfortable. You may decide to use it as a designated gathering spot, or an extension of those get-togethers and dinner parties that can't help but flow outdoors.
You spend way too much time sweeping away leaves, seeds and debris from your patio
If you use your outdoor space to the fullest, you're probably growing a little tired of the constant cleanup that goes with it: sweeping away natural debris every time guests come over, or you simply want to relax in your personal space. Florida is no stranger to pests and natural litter, but a screen room makes it easier than ever to entertain on the fly - no rushed cleanup or elbow grease to worry about.
You want to get back to nature while still enjoying the comforts of home
Here in the Sunshine State, there is no shortage of gorgeous natural views to enjoy! A screen room lets you enjoy the best that nature has to offer (the fresh air, birdsong and gorgeous views) minus the less-than-pleasant parts (think insects and sudden rain). Savor the best of both worlds while still being able to enjoy your cool fan, access to food and drinks and whatever else you need for ultimate relaxation.
In addition to our beautiful, durable screen rooms, we here at White Aluminum The Villages also design pergolas, sunrooms, patio covers and whatever else you may have in mind! Contact us today and see what we can do for you.