The Villages Windows & Home Improvement
White Aluminum is a leader in The Villages windows and home improvements. We sell and install windows, doors, screen enclosures, pool cages, gutters, handrailing and many other aluminum & glass building products. We service Sumter county and the surrounding areas selling and installing:
Windows
Sliding glass doors
Entry doors
Storefront
Hurricane shutters
Pool cages
Screen enclosures
Handrailing
Soffit & fascia
Seamless gutters
Siding
Custom aluminum fabrication
LATEST NEWS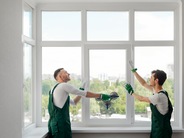 Save Money and Live Better with The Villages FL Replacement Windows
Windows that fail to provide the proper insulation are a money sieve. Sure, they might successfully keep everything that is outside from getting into your home, but a drafty window can lead to fluctuations in temperature, which places more stress on your air conditioning and then that power bill burns a bigger hole through your pocket. This is especially noticeable at the peak of winter and in the spring and summer months, as we experience both ends of the thermometer. Interested in saving money and boosting your quality of life by investing in replacement windows for your home in The Villages, FL? Just read on!
MORE NEWS