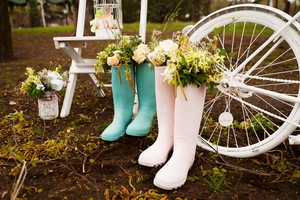 Spring is almost upon us. With longer days filled with the sounds of birds chirping away and gorgeous blooms bursting with colors, springtime can get your decorating juices flowing. While the good old practice of spring cleaning remains as popular as ever, this can also be a great time to bring your unique design and decorating ideas to life.
Declutter and get rid of unwanted items, furniture, and clothes, and organize your living spaces. With a clean slate, roll your sleeves up and take it a step further by planning home design and improvement projects. Simple additions to your home can enhance your well-being and productivity.
Here are four fun decor ideas that are sure to spruce up your home this spring.
1. Bring the Outdoors in with Vibrant Foliage
What better way to usher in the approach of the spring season than by bringing the greenery into your home? Use a combination of carefully chosen faux and natural plants to liven up your indoors and add a fresh, clean look.
If you are looking for low-maintenance decor, many faux plants look just as good as real ones. Place them in your home's strategic locations and instantly transform your interiors.
2. Add in Some Color and Warmth with Accessories
Simple updates, such as changing up the furnishings, can make a huge difference. Replace your neutrals and winter palette with warmer and brighter spring colors. Use more colorful pillow covers, rugs, and linen.
Fresh floral arrangements can impart that sense of energy and positivity that represents spring. How about using floral candles or diffusers to make your home smell beautiful and uplifting?
3. Think About Villages Home Design and Home Improvements
The pleasant weather can make spring the best time for home improvements. You might want to give your home a fresh coat of paint. Whether you are thinking about landscaping your yard or replacing your old, dated windows, the newly enhanced curb appeal can be precisely what you have envisioned all along.
Another great project to update your home could be the addition of a stylish and functional new space, such as a sunroom or a screen room. Since you will be spending more time outdoors, a well-constructed pool enclosure or pergola can be a great idea.
No matter your unique vision for home additions or remodeling, springtime can be ideal for making them happen. Villages home design and improvement can not only make your home more attractive and enjoyable, but it can also boost its value.
4. Change Your Window Treatments
Your drapes can change the entire space. Have fun going through different colors, textures, and choose curtains to complement your gorgeous windows and the outdoors.
Think pastel colors or white and use materials like cotton or linen. Light, flowy window treatments can set the tone for bright, sunny days to come. Affordable and easy to install, dressing up your windows can be a clever spring update to give your room a quick makeover.
With these small improvements your home will be ready to be a spring paradise!