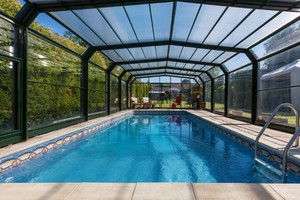 Springtime in The Villages, FL brings days full of sunshine and heat that make your pool the perfect sanctuary to seek refuge. However, there are things that your pool needs protection from too, which is why spring might be the perfect time for you to add on a much-needed pool enclosure! Read on for our 4 reasons why your pool would benefit from getting enclosed this season.
Less Sun and More Shade
While still allowing sunlight through, pool enclosures are sure to increase the amount of shade available, which makes for cooler days by the pool – no matter how hot it might get. There will still be plenty of that signature Florida sunshine but less of the sun's harmful UV rays, which makes sunscreen application less of a hassle to manage. Plus, protection from the sun extends the life of any chlorine put into the pool. Improve the health of your skin and your pool all at once with a pool enclosure!
Keep Pests Outside
No matter where we go, it seems nigh impossible to escape from Florida's bountiful wildlife. The tropical environment may make for picturesque backdrops and desirable heat all year, but it also accounts for annoying critters that can plague each minute we spend by the pool. Keep them out with a high-quality White Aluminum pool enclosure! Find peace of mind in the fact that insects will not bother you anymore, nor will you ever come out to the pool only to catch snakes and raccoons enjoying the water before you do.
Add Value to Your Home
Pool enclosures will not only bump up your quality of life, but they will also increase the value of your home! In Florida especially, pool enclosures are highly valued by homeowners due to the favorable conditions that they provide for a pool, which in and of itself is so valuable in the tropical climate. This feature adds curb appeal to the overall space of your home, as well as the outdoor living area. If the time comes to sell your home, a pool enclosure is guaranteed to make the house more attractive to buyers. This feature will end up paying for itself.
Cut Down on Pool Maintenance
Pools require a degree of maintenance that can be time-consuming and stressful, from pool chemicals to cleaning. Without enclosures, pools are sure to rack up debris such as leaves, dirt, and other littering which takes time to remove, whether it is done manually with a net or through the use of a machine. By blocking out these sources of trouble, you will be able to spend much less time sifting through the pool and more time swimming through it. Plus, with fewer pollutants, you will not have to spend as much on chemicals to keep the pool clean either, which is better both for your wallet and the environment.
White Aluminum pool enclosures are custom designed to suit any pool's home. All of our enclosures are constructed using high quality, extruded aluminum framing and fine mesh fiberglass screening that is sure to stay strong in the wind and keep you safe from the sun. If your home would benefit from a pool enclosure, contact us today to learn more about the different finishes and rooflines we offer so you can figure out the best fit for your home!