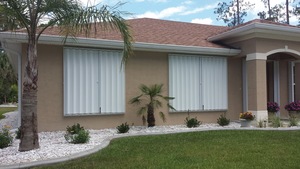 When it comes to choosing the best hurricane shutters The Villages FL homeowners may be wondering: How do I pick the perfect solution for my unique home? As proud providers of hurricane shutters and various storm protection solutions to The Villages and beyond, White Aluminum has the insights needed to help you make this decision! Read on to learn more.
Storm panels: Use them when you need them
Many Floridians might be familiar with traditional aluminum storm panels. This form of storm protection can be placed in your garage or storage area when not in use, and simply needs to be affixed to your home's windows and doors before a storm. If you've never used metal shutters before, and have only relied on plywood coverage, now is the time to make the switch! Unlike wood, our dependable aluminum shutters won't warp with moisture and normal wear-and-tear.
Easy-install options
Sometimes, you crave a simpler process - especially if you want to avoid a period of scrambling around before a potential storm, or simply want an option that is more accessible for you. Our easy-install options like accordion shutters and rolling shutters are attached to your home all year long, and are activated easily by extending pre-storm.
Don't forget about your garage
Your garage door is likely the largest opening in your home, and thus needs to be fortified, too! It's easy to overlook, but we've got you covered with dependable garage braces that secure your doors from the inside. High winds can cause your garage doors to buckle and bend, so you'll want to safeguard them before a storm to avoid potentially costly damage.
Fun fact: Did you know that we can outfit your White Aluminum retractable screen system with motorized hurricane shutters, too? It's a flexible, no-fuss option you're sure to appreciate. Ask us about it today!
Whatever hurricane protection solution you decide on, you will be investing in safety, security and peace of mind for your home and family! Contact White Aluminum The Villages today to get started.