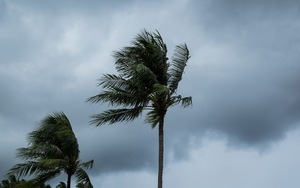 No one wants to spend time standing in long lines for hurricane essentials, or rushing to get their shutters up before a storm. Fortunately, a few simple steps now can save you time in the event of a hurricane! Just read on to learn more.
Make a list
We may be in the midst of hurricane season, but it's not too late to put together a prep list if you haven't already! By doing so, you will be able to avoid realizing at the last minute that you're missing an essential like batteries or medication (and, as a result, spending extra time scrambling to get it).
Wondering what to put on your list? Ready.gov has compiled a list of many important essentials to include. You can keep track of yours on your phone, and separate items into groups like "electronics and batteries," "food essentials," "pet gear" and more.
Stock up on a sunny day
Speaking of those essentials, the time to pick them up is well before you hear about a forecasted storm path. By spending some time now, you will get to save lots more later on, especially by avoiding those long grocery store lines.
Clear a space for outdoor objects
Chances are, you will have to move some items in the event of a storm. For example, patio furniture and outdoor toys should be stored inside (in your garage, shed or wherever you have room) to prevent them from being thrown around in windy weather. To avoid the last-minute rush to do this, take some time now to clear the way for these items—or to get rid of gear that's unused or in disrepair.
Upgrade your storm protection solution
One of the most time-consuming parts of preparing for a storm is, of course, taking out your shutters (or purchasing them, if you haven't already) and affixing them to your home's doors and windows. But what if you didn't have to go through this step whenever a storm was on its way? With upgraded storm protection solutions like accordion shutters and impact windows, you don't have to! If you want to save time for future storms (especially if you've got a busy schedule), these streamlined solutions let you prepare for storms in a flash. With accordion shutters, which can be pulled shut to get storm-ready, it takes seconds; with impact windows, it takes no time at all, since the glass itself is built to withstand a strong storm's wind and debris.
With the time you'll save through these simple measures, you can spend more of it doing what you want before a storm: having a family game night, helping your pets feel comfortable, and much more. It's your call!
We hope that these tips help you plan ahead, making the rest of the season as safe and stress-free as possible. For help with home improvement measures such as impact windows and hurricane shutters in The Villages, White Aluminum & Windows The Villages has you covered. With six decades of experience, our team is ready to help you with whatever you may need to make your home even better.