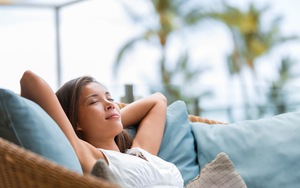 Your backyard space should be a retreat—a cozy, personalized "bonus room" of sorts where you can feel free to unwind with friends and family, or perhaps carve in some time with a good book and simply enjoy nature.
How do you achieve the comfort and privacy of your home's interior, outside? It can be done! Just read on for a closer look at a few of our favorite solutions.
Add a pergola (and dress it up!)
The Florida lifestyle is all about entertaining and unwinding outdoors, which is why a pergola is such a smart, ready-made solution for your backyard! Its elegant structure brings a sense style to your outdoor space, all while turning a slice of your open backyard into a personalized getaway, shielded from the sun and your surroundings, too.
Your pergola's posts and shade above (all in pleasing natural colors) add an element of privacy on their own, but you can add even more privacy by covering your pergola with a shade; hanging up sheer, breezy curtains; or surrounding your space with vines and plants for added cover and a sense of serenity.
Enjoy the flexibility of a retractable screen system
Another great way to introduce privacy into your space is to add a retractable screen system, which offers you flexibility—with the touch of a button, you can bring your screens down for privacy in a quiet, secluded setting reminiscent of your favorite restaurant; or send them up and enjoy fresh air and a beautiful backyard view! Many people want different things out of their outdoor experience depending on the day's activities, and a retractable screen system lets you add or diminish privacy according to your itinerary.
Introduce a moving-water feature
We often think about privacy in visual terms—for example, adding a screen or umbrella to shield your space. But auditory features can also add privacy by layering your outdoor space in pleasing natural "music," such as the sound of moving water! It's a naturally relaxing sound, which can be introduced by way of elements like a fountain or rain wall in your pool.
Surround your space with colorful plants
Another natural way to add privacy to your space? Lush natural scenery! Plants, including trees and shrubbery, can add a sense of separation between your backyard and the rest of the neighborhood. (Tip: if you have a pool, an enclosure can help keep these plants from filling your water with leaves and seeds, making for much a much cleaner and more enjoyable experience.)
Cover up your entertaining space
If you already have the perfect entertaining space, one small change can help it feel more serene and secluded: add a cover! A sleek patio cover or louvered roof system can help you achieve this, with the latter providing you with the flexibility to turn your shades open or closed depending on the day.
Enjoy your backyard on a new level, this summer and beyond! We hope that these tips help inspire your upcoming project—and whatever that project may be, we're here to help. For backyard solutions like pergolas in The Villages, White Aluminum & Windows The Villages can help craft custom features that you're sure to love. Backed by six decades of experience, it's what we do best! Call us today to learn more.