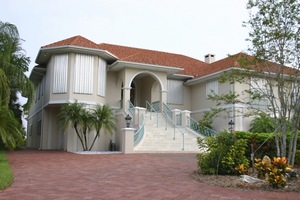 We may be at the peak of hurricane season, but don't worry! There is still time to find the perfect storm protection solution for your home. If you're wondering about how to choose (and use) hurricane shutters in The Villages, FL, we've got you covered. Just read on for five simple tips.
Pick the perfect shutter type
If you don't already have shutters, the first step is to select the perfect style. One popular option is aluminum storm panels, which provide protection against the elements and can be stored in your garage when not in use.
Accordion shutters are another great option to consider. Like storm panels, they are built to last with sturdy aluminum—however, you never need to take them down! They are designed to retract into the sides of your windows and doors when not in use, folding in like an accordion. When you want to prepare them for a storm, simply bring the shutters together in an easy one-person step.
Opt for a combination of shutters
Since both of these shutters offer powerful protection for your home, you can't go wrong with either option! In fact, you can even choose to combine the two for different areas of your home. (For example, some homeowners may choose to use accordion shutters on their tough-to-reach second-story windows.)
Store your shutters safely
If you opt for storm panels, be sure to store them in a safe, accessible place when not in use. This will prevent you from losing track of a panel, or having to undergo a cumbersome operation just to retrieve it in the event of a hurricane system. Built-in storage racks in your garage are a handy option to keep your shutters accessible yet out of the way.
Make a tool checklist
You will need some basic tools for the installation process of storm panels, so keep a checklist handy and never run into a last-minute scramble for supplies! To find out what tools you will need to install hurricane shutters, The Villages, FL residents can contact White Aluminum & Windows The Villages. In addition to providing you with the panels themselves, we will be happy to go over tips for tools and the installation process.
Invite a friend (or lend a hand!)
Installing storm panels calls for some company. Invite over a friend to help with yours (include free pizza to sweeten the deal), or, if you are already covered with impact windows or accordion shutters, volunteer to help someone else install their panels! It's a great way to look out for friends, family members and neighbors during hurricane season.
For storm protection and all other home improvement projects throughout the year, call White Aluminum & Windows The Villages today. Backed by more than six decades of experience, we are here and happy to help with whatever you may need to take your home to the next level of style, safety and comfort.