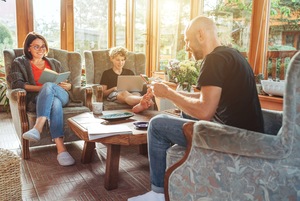 Who doesn't love the sun? We all want a special spot in our home to bask in its bright warm glow. When it comes time to add a sun space to your home, you might be wondering if the time is right to incorporate a sunroom or screen room in your new Villages home design.
At WA The Villages, we want to help you choose the best type of sun space to fit your home and lifestyle. Let's bring your visions to life with a wow-worthy Villages home design!
Which Option Is Best for My Villages Home Design?
When you want to add space to your home, it can be hard to figure out what to add. But if you're reading this article, chances are you're either going with a screen room or a sunroom.
Are you looking to enjoy more outdoor space with partial protection from weather and insects, or do you want to add more sunny interior space to your home?
Sunrooms and screen rooms offer unique advantages to a home, so the best fit for you will depend on your needs and lifestyle.
The Advantages of a Sunroom
Sunrooms are an interior addition to the home, lined entirely (or almost entirely) in windows. As its name would imply, the windows let in a lot of sunlight, making the sunroom an ideal spot for plants or sleepy cats.
Sunrooms are the perfect choice if you are looking for an interior home extension. They have some great features, including:
Climate control during cold snaps
Protection from adverse weather, like rain or windstorms
Aesthetic value (good ROI)
Prime indoor space for garden enthusiasts
If you prefer your sunny space to be completely secure from the elements and want to add square footage to your home, a new sunroom might be for you.
The Advantages of a Screen Room
Screen rooms are roof-topped outdoor areas enclosed in screens. These areas are also known as screened-in porches or patios.
While this type of living space is not part of the home's interior, you can usually access it from the inside. Screen rooms offer a partially protected space from the elements as well as:
Excellent air circulation and access to your outdoor space
Protection from bugs, lizards, and other small outdoor critters
Overhead covering from rain and wind
Added outdoor entertainment space
If you are searching for a way to enjoy your outdoor space without being completely immersed in it, a screen room is the option for you.
Does It Matter Who I Hire?
Okay, so you've made your decision, and you're getting ready to follow through with it. An addition is a pretty serious financial investment, so you might want to find a deal when you're shopping for builders.
Just make sure you find an experienced, skilled building team that can bring your most elaborate plans to life. After all, a beautiful, well-constructed addition will increase your home's resale value, while bad construction could be a huge headache!