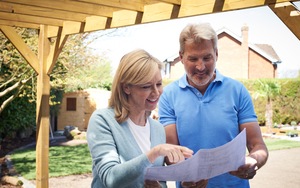 Summertime and home improvement go hand in hand. Whether it's the longer days, or the scent of fresh-cut grass in the air, we're lured outdoors to spruce up our homes in a variety of ways. If you've got one such project coming up, read on and take a look at our top tips for a smooth process!
What's on the menu?
You may have a running to-do list for home improvement and repair projects, so how do you know which one to start with? Here are a few criteria to consider…
* Is your home prepared for hurricane season and other summer storms? Storm protection projects (designing replacement windows, picking out shutters, or even pruning overhanging trees), or even replacing an old gutter, may take priority on your list, since they can help you enjoy the summer with ease knowing that you're ready for whatever the weather may bring!
* Are you looking for ways to improve the value of your home? Certain projects, such as room additions, may help you do exactly that.
* What are your summer goals? A cleaner pool to play in? More entertaining space? Whatever they may be, pick a project that's custom-suited to your summer agenda.
Get an early start
If you're working on a project yourself, start bright and early! They say the early bird gets the worm—but this is more about avoiding the afternoon heat and direct sunlight as much as possible, so that you can work more comfortably outdoors.
Of course, even if you start early, you'll still want to lather on some sunscreen and cover up with a hat. Plus, polarized shades can help you see what you're doing more easily without the sun's glare getting in the way.
Have plenty of H2O on hand
Water is the secret ingredient to home improvement projects big and small. Drink up and stay hydrated so that you can stay cool and replenished as you work (or add some sliced-up fruit for a sweet, infused treat!).
Enlist a helping hand
Home improvement projects can sometimes call for more than one set of hands, so feel free to ask for help! The whole family can get involved—younger kids, for example, might enjoy playing a part even with simple steps like tossing old branches to the side, clearing a workspace or offering you an extra pair of eyes. If it's guidance you need, one of our DIY kits is sure to come in handy. These convenient kits offer up easy-to-follow how-to information so that you can complete your project with ease.
Cap off the day with cool fun
Once all is said and done, take a well-deserved opportunity to kick back and relax! Enjoy some pool time with the family or have an impromptu get-together with friends to celebrate your brand-new pergola or patio space.
We hope that these tips help you complete your home improvement jobs with ease—and maybe have some fun along the way! Your team at White Aluminum & Windows The Villages can help with a wide variety of projects, from storm protection to pergolas and everything in between. Just call us today to learn more.