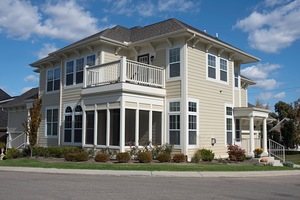 Whether you're planning to sell your home soon, or simply want a fresh new look, it's always a good time to enhance your home's curb appeal! Help your property make a positive first impression with some of these design tips (and a little help from White Aluminum The Villages!). Take a look.
Paint your front door a bold new hue
One of the easiest but most effective changes to your home's exterior is a fresh coat of paint on your door! But don't go with just any color - we hear from real estate pros that a bold, black front door can increase the value of your home (in addition to looking super cool in its own right).
Consider a Southwest-inspired hardscape
Have trouble maintaining a lush, green lawn? Consider foregoing traditional grass altogether, and instead opt for a hardscape. This type of landscape, inspired by the arid environment of homes in the Southwest, features pebbles and succulents in place of more demanding plant life. You can landscape your whole yard this way or just a select part!
Introduce moving water to your space
Add a pleasing, natural soundtrack to your space with the help of moving water features like a beautiful fountain. Every time you arrive home, you will be treated to the relaxing effects of H2O before you ever set foot indoors.
Add beautiful flowers and broad-leafed palms
Not sure about changing your entire facade? Start with the addition of color in the form of vibrant flowers! (Tip: Marigolds and begonias are two very easy-to-care-for varieties, in addition to so many others.) You can also add broad-leafed plants in front of your home's windows to help reduce energy costs indoors and lead to a cooler interior. This is something that our White Aluminum energy-efficient impact windows can also help with.
Vinyl siding for a no-fuss facade
Why spend time painting and repainting your home's exterior - then doing it all again in the years to come? With White Aluminum's stylish vinyl siding, you can enjoy a fresh new look minus the maintenance. You can choose your own custom style, and even choose an insulating variety for extra energy savings.
Ready to take your home's exterior to the next level? From vinyl siding in Leesburg FL to beautiful pergolas in The Villages and everything in between, we have you covered! Contact White Aluminum today to get started on your next big project.