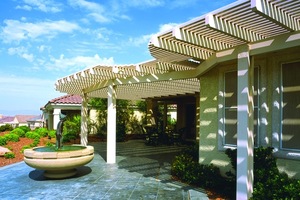 With a pergola The Villages FL residents can enjoy outdoor living to the fullest! Once you have your very own pergola with the help of White Aluminum, think of it as a blank canvas - a backdrop against which your one-of-a-kind decor and design ideas can come to life! Read on for a few of our fun design ideas.
Add airy curtains for a breezy vibe
There's nothing better than soaking up some sun outdoors and enjoying the breeze. Adding airy, sheer curtains to your pergola (which can easily be opened or closed depending on the day) gives you a stylish way to capture the breeze and make it a dynamic visual component of your outdoor living space.
String up twinkling lights
Your pergola is a center of family fun and al fresco entertaining! Make it an even more welcoming space with the help of twinkling string lights, lighting your space from above - the perfect solution for keeping the fun going from day to night.
Bring your space to life with lush greenery
Maybe you've always wanted to create a beautiful garden but found that direct sunlight was too harsh for your plants of choice. Now is a great opportunity to use your pergola as a provider of shade, filling the space underneath with gorgeous, colorful plants that thrive in partial sun. You can also use your pergola to grow and display beautiful climbing plants, from its posts and ceiling.
Create a cozy movie corner
Hang up a white sheet on one end of the pergola to serve as your "projector screen," add a comfy couch and pillows and voila! You've got the makings of a cozy movie corner where you and your family can catch the big game or your favorite movie on streaming. Just pop some popcorn and enjoy!
Of course, these are just a few of the many ideas you can try. At White Aluminum The Villages, we're excited to help bring your backyard to life with pergolas, screen rooms and so much more. Contact us today to get started.