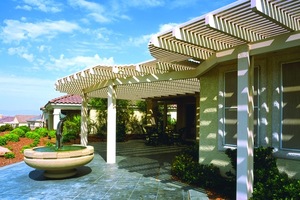 A beautiful pergola can add stunning architectural flair to your backyard, while also extending your entertaining space and providing much-needed relief from the sun's harsh rays. But no two pergolas are alike — in fact, yours can be a truly custom addition that lends one-of-a-kind style to your space! If you're searching for a unique way to spruce up your property with a pergola, The Villages, FL residents can count on White Aluminum. Just read on to learn more about some of the exciting options you can consider for yours.
What Color Will You Choose?
From breezy beach house, to alluring Mediterranean vibes, there are many ways to use color to reflect a décor scheme in your pergola space! Our pergolas are made with heavy-gauge virgin aluminum, then coasted with durable, stain-resistant resin that never needs painting. Opt for lattice shades in white, ivory, beige, or adobe for a look that's totally "you."
Standalone Space, Or Covering Your Existing Patio?
At White Aluminum, we've seen homeowners take their pergola projects in endless exciting directions. You can anchor your pergola next to your home to cover your existing patio and pool area, for example, or set it up as a standalone oasis in your backyard.
What Endcap Style Speaks To You?
Pergolas offer unlimited potential with architectural style, so we can help you choose endcap styles — the overhanging part that juts out from the edges of your structure — that match your unique aesthetic preferences!
How Much Shade Do You Want?
Maybe you want a lot of shade for a serious cool-down, or perhaps you prefer a sunnier space. Whatever your shade style is, we can place your pergola's pickets closer together or farther apart to achieve the right balance.
How Will You Deck Out Your Space?
Once your pergola is installed, you have a seriously fun task ahead of you: that is, choosing furniture and décor for the shade-covered space below! We love tropical prints and breezy textures your family and friends will enjoy sitting in. Speaking of breezy, you can also add airy curtains to your pergola for total comfort and style.
What will your pergola look like? That's totally up to you! Contact White Aluminum & Windows The Villages today to get started on this exciting outdoor project.