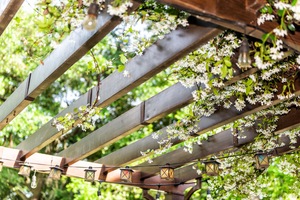 Pergolas continue to grow in popularity throughout The Villages, and with good reason. Aesthetic and functional, this structure adds instant interest and elegance to your home motif. Best of all, pergolas are easy to install and maintain.
Plus, they come in various sizes, shapes, and colors. That means you could easily place a customized pergola on your property, tailored to your exact desires and requirements. And when you opt for a high-quality aluminum selection, you could be relaxing and unwinding beneath this structure for years to come. Read on to discover more of the outstanding uses for your pergola.
Create an Entertaining Space
Life in The Villages is pleasant and laid-back. Here, it's fun and exciting to embrace all that Central Florida has to offer. That includes spending quality time with friends, neighbors, and loved ones. Achieving that goal is easy when you have an inviting and dynamic spot in which to gather.
Just as screen rooms in Leesburg, Florida expand your living space, your pergola can be used as an outdoor living room, reading nook, and more. This makes the ideal spot for parties or just casual get-togethers.
Build a Personal Oasis
In fact, design options abound with this innovative property enhancement solution. For example, you could place potted plants at the base of your pergola, and allow vines to meander up the posts and roof. Or, you might string holiday lights from the rafters to create a welcoming ambiance when the sun goes down.
This is also the ideal shaded spot for pets and grandkids to play. When you need a peaceful area in which to spend a relaxing moment, a high-quality aluminum pergola might be just what you've been seeking.
Embrace the Versatile Use
As mentioned, there are many creative options when it comes to your pergola. For instance, you might string a hammock from the roof and enjoy a lazy Sunday afternoon in the warm Central Florida breeze. Or, you could partake of an outdoor movie under the stars at night.
Sometimes you just need a space where you can get away from it all. Pergolas offer heightened privacy without the feeling of isolation. This way, you get the best of both worlds: full enjoyment of the natural beauty of The Villages, without prying eyes disturbing your peace.
Match with Other Enhancements
As a responsible homeowner, it makes sense that you're always on the lookout for improvements to your residence. That includes replacement windows in Leesburg, Florida and other interesting and useful ideas. Best of all, when you invest in mesh fiberglass overhead screen (or drape curtains from the roof of your pergola), you can get the most from this structure no matter the weather.
You could also place other home improvement products that perfectly complement your new addition. That includes acrylic and vinyl rooms, pool enclosures, retractable screen systems, storm protection and security, and much more.
For more than 60 years, we've assisted countless homeowners in The Villages with a variety of home upgrades that bring value and enjoyment. We've also built a solid reputation as the premier dealer of hurricane shutters in Leesburg, Florida. Now, you can get the backyard of which you've always dreamed. Contact us today to get started on a high-quality aluminum pergola customized to your specifications.