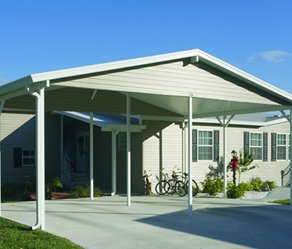 You've heard the rumors and varying thoughts. Now, get a real comparison about the differences between carports and home garages. Read on to learn more.
For years, people have discussed the benefits and drawbacks of garages. There was a time when homeowners like you had little choice in the matter: you either built a garage or left your vehicle and belongings to the elements. Now, there are viable and affordable options.
Investing in high-quality carports in Leesburg, Florida (and throughout the region) simply makes sense. This is where you get maximum vehicle protection, plus many other perks that garages just can't offer. Use this insight to discover the real benefits of installing an aluminum carport on your property.
Durability and Longevity
Maybe you've noticed in your neighborhood that some houses may have been upgraded through the years, but the garage seems like the same old structure. Or perhaps your own garage is in need of a facelift, but there's simply no room to get the job done right.
Carports are much more cost-effective than garages. Installation is simple and straight-forward. Plus, you can customize your aluminum carport in ways that would be impossible with a garage. And that's not to mention the many uses of this home improvement structure.
Versatility and Flexibility
For instance, just as screen rooms in Leesburg, Florida add extra living space, your carport features built-in versatility. Along with vehicle storage, this is the ideal spot for casual entertaining, added storage, even a recreation space for kids and pets.
Your carport keeps property safe from the elements, including heat, rain, and high winds. Plus, law enforcement experts agree that potential thieves will think twice about targeting a home with a carport. They simply don't know what to expect once inside the frame.
In a time of social distancing, carports provide a spot where you can visit friends and loved ones while still adhering to health guidelines. You could also use this space as a work area. That comes in especially handy during a time when many businesses are temporarily closed.
Convenience and Ease of Use
Your aluminum carport is naturally rust and water-resistant. In addition, cleaning is a breeze, and doesn't require potentially-harmful solutions. That's not to mention the easy installation compared with garages, which could take weeks to construct. By contrast, you'll be enjoying your aluminum carport in no time.
Plus, you decide the best floor for your carport. That could be dirt, grass, concrete, stone, linoleum, and other options. And, as mentioned, this structure can be tailored to your personal needs and requirements.
Carports also take the hassle out of having to cover vehicles, boats, RVs, motorcycles, and similar. You can just park these vehicles under the carport and rest assured that they're protected.
Opportunity
Just as replacement windows in The Villages add value to your home, a high-quality aluminum carport on your property perfectly demonstrates to friends, neighbors, and passersby that you're a homeowner who cares about your residence and the community.
The versatile construction of your carport means you won't necessarily be bound by the sometimes-restrictive facets of garage construction. Instead, you can build a carport that suits your desires and needs.
Plus, this structure can easily be combined with other innovative property enhancement solutions. That includes acrylic and vinyl rooms, awnings and shutters, do-it-yourself (DIY) kits, hand railing, pergolas and ultra-lattice shade, pool enclosures and more.
For more than six decades, White Aluminum has been a leader in home improvement options for people across Florida. Browse our website to see all of the creative products available to you. Then, contact us today to get started on an eye-catching aluminum carport of your own.